Your VISA card + Google Play™
Confidence. Simplicity. And the things you love about your VISIONBank Visa card.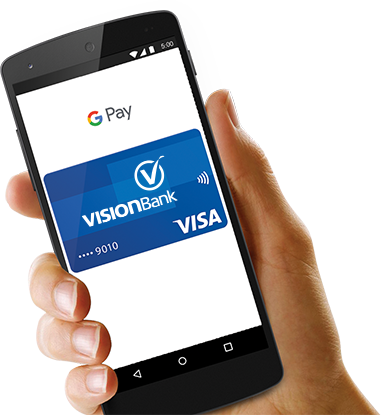 Getting started is as easy as:
Download the Google Pay app

Add your VISIONBank Visa® card - it's as simple as snapping a photo

Pay confidently at millions of places around the world.
Use it today
There's a lot to love about Google Pay. Like how it lets you use your favorite Visa card at millions of places around the world. See stores and apps that accept Google Pay pay.google.com/about
Get extra layers of security
When you use your phone to pay in stores with an eligible Visa card enrolled in Google Pay, Google Pay doesn't send your actual credit or debit card number with your payment. Instead, a virtual account number is used to represent your account information – so your acccount details stay safe.
Enjoy the confidence of paying with your phone using Visa and Google Play


Look for either of these icons at checkout
Google Pay is a trademark of Google LLC.
© 2019 Visa®. All Rights Resered.