Tired of waiting in the mail for a debit card? We offer instant issue "Tap to Pay" debit cards at all VISIONBank locations!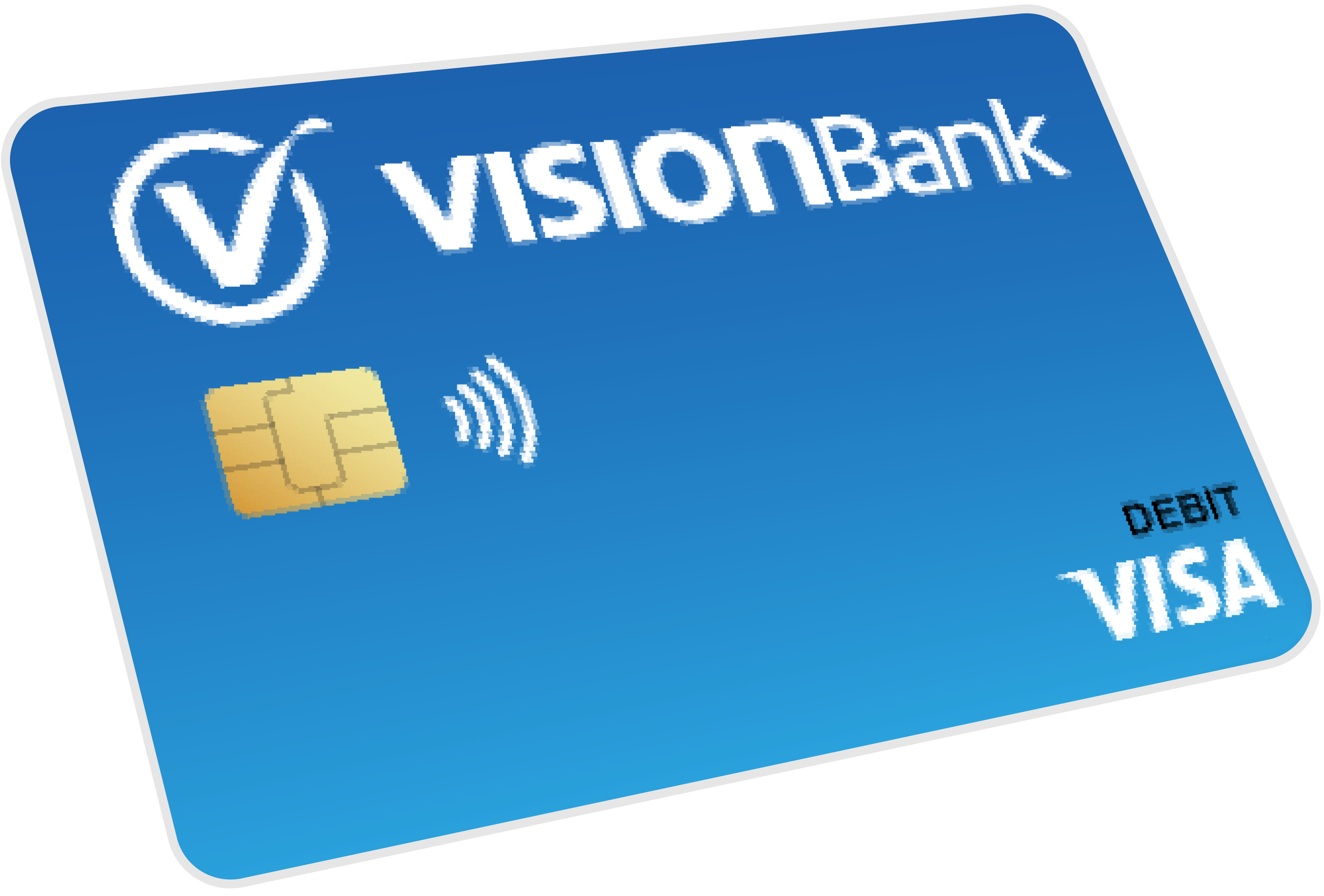 Instant Issue Debit Cards
Instant issue debits cards with EMV chip and "Tap to Pay" technology. Plus, they look and feel "fancy" which is just a nice bonus.
Digital Banking Debit Card Control
Our digital banking allows you to manage your debit card online or within our app. Mark your card lost/stolen, submit travel notifications, activate your card, and more!
Mobile Wallet Compatible

40,000+ Fee-Free ATMs
We've partnered with MoneyPass ATMs, meaning you have unlimited free withdrawals at all MoneyPass ATMs. That's over 40,000 ATM locations nationwide.


First Four ATM Fees Reimbursed
If you can't find a MoneyPass ATM near you, no worries! ATM fees are automatically refunded for the first 4 ATM fees per deposit account per statement cycle.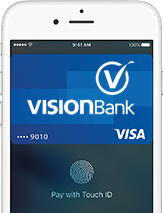 Pay confidently with VISIONBank.
Paying for purchases is easy and secure using your VISIONBank Visa® Debit Card with Apple Pay™, Google Pay™, and Samsung Pay™.
The things you love about your Visa Debit Card — right on your device

Quick and easy to set up so you can start using Apple Pay™, Google Play™, or Samsung Pay™ right away

It's safe — your card details are never stored on your device 
What Should I Do if My Card is...
Can't find your card, it was stolen, or notice strange charges on your account?
Mark your card lost/stolen within digital banking or notify us one of the following ways:
A member of our customer service team will then assist you with getting a new card printed and anything additional you may need.
Not quite sure where your card is, but you know it's not lost?
Turn your card off temporarily within digital banking or notify us one of the following ways:
After your card is found, simply turn it back on!
What Else Can We Help You With?
What Else Can We Help You With?
The routing number for all VISIONBank locations is 091311106.
Our digital banking interface allows you to issue travel requests, change your PIN, turn your card on or off, report a card lost or stolen, and enroll in debit card transaction alerts.
No, we will never ask you to provide your credentials such as your username, password, or security questions over text, email, or phone call. If you have any questions or concerns, please contact us at 701.364.2020 or cs@visionbanks.com.
Yes! For instructions on how to set these up, please visit our Digital Banking page.
Yes, you can turn on debit card transaction alerts for every successful and denied transaction.
Check out faster with our Tap to Pay/Contactless debit cards! Pay the secure and touch-free way with your Visa contactless chip card, payment-enabled phone, or wearable device. Simply look for the Contactless Symbol and tap to pay for a secure checkout experience.

A travel notification is a notification that alerts us when, where, and how long you will be traveling. This helps us protect your account from fraud.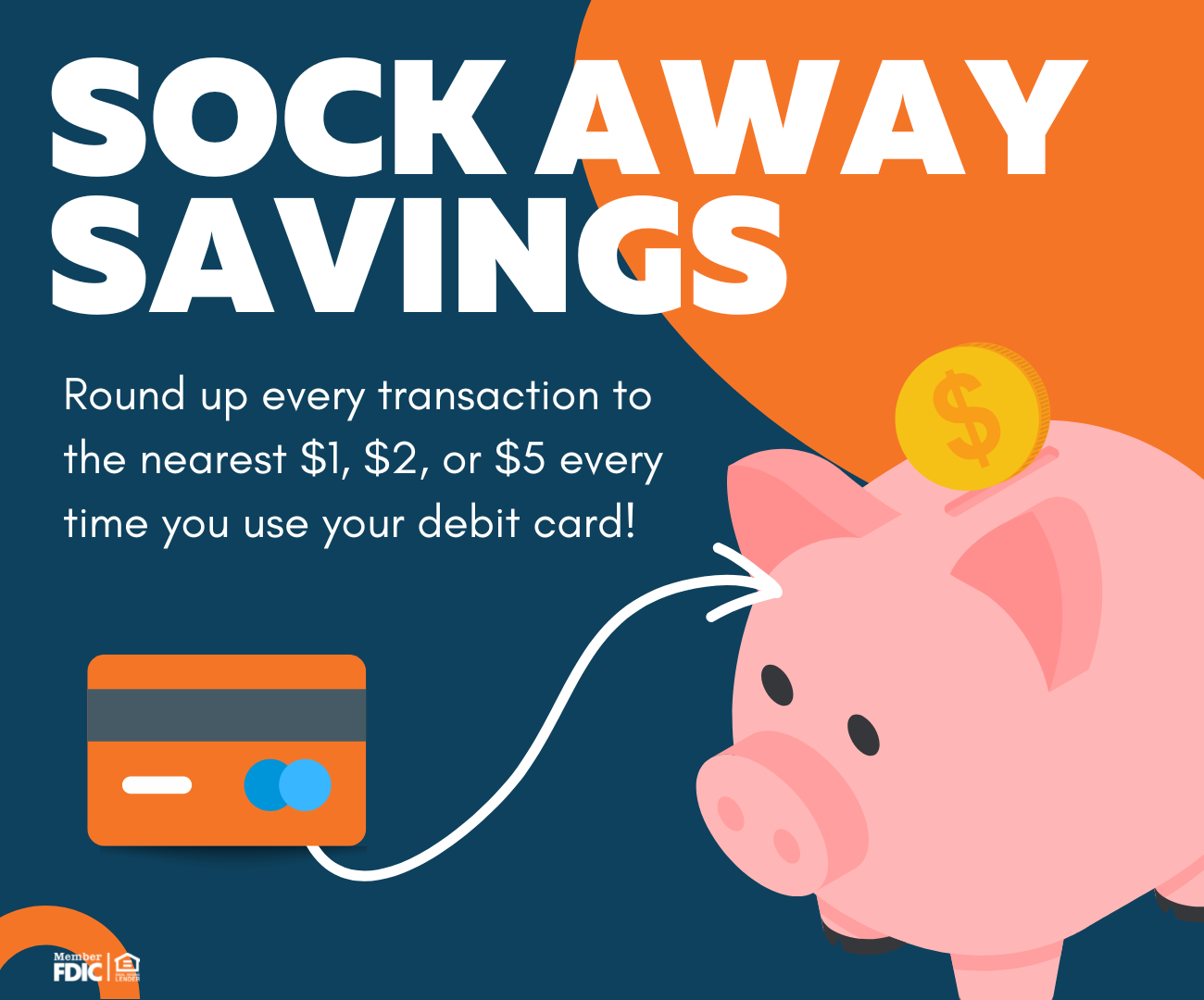 Take the Hassle Out of Saving
Enroll in Sock Away Savings and watch your savings grow!
Sock Away Savings automatically rounds up each transaction to the nearest $1, $2, or $5 every time you use your VISIONBank debit card.